---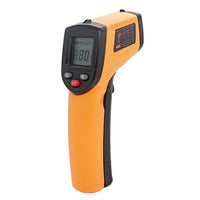 Sale
Benetech GM320 Infrared Thermometer.
Range: -50 to 380 degrees Celsius
Power source: 2x AAA batteries (not included)
It's important to know what your water temperature is. If spa pool water is over 39 degrees it becomes quite difficult to control chlorine levels due to evaporation.
It's amazing how many other temperatures you'll find to check with this instrument - pump motor, solar heating pipes, electrical connections & fuses and many more... If you leave one of these on a bench - 9 out of 10 guys that walk past will pick it up and check the temperature of something!