---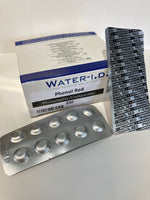 1 x box of 250 photometer grade Phenol Red water test tablets.
Range: pH 6.5 - 8.4.
Made in Germany to ISO9001 standards, these are top quality at a great price.
All prices on this website include gst.
These tablets contain phenol red, which is a pH indicator that changes color depending on the acidity or alkalinity of the water.
To use these tablets, you would simply drop a phenol red tablet into a 10ml water sample. The tablet will dissolve with crushing/stirring and the water will turn a different color depending on the pH level.
If the water is acidic, the tablet will turn yellow. If the water is alkaline, the tablet will turn pink. The exact shade of yellow or pink will depend on the pH level of the water and can be read by your photometer.
Phenol red water testing tablets are commonly used in swimming pools and hot tubs to ensure that the water is at a safe pH level for swimmers. They can also be used in other settings, such as in laboratories or in testing the quality of drinking water.
So, if you're looking for a reliable and accurate solution for testing pH levels in your water, look no further than our Phenol Red Water Testing Tablets. Order now and start enjoying crystal-clear, healthy water in your pool or hot tub today!
Due to high demand currently and importing delays orders of this item can take up to 2 weeks to fulfil.