---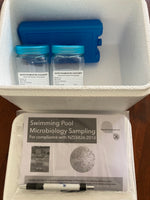 Our Microbiology testing kit contains contains everything you need to take care of your monthly pool microbiology testing to comply with NZS5826:2010.
What comes in the courier bag?
Chilly bin
Freezer packs
Sample jar(s)
Instructions
Return prepaid courier bag
You require one sample jar per pool. One sample jar contains enough sample for all 4 bacteria tests required per pool.
What tests are carried out on the samples?
Standard Plate Count
E. coli
Staphylococcus Aureus 
Pseudomonas Aeruginosa 
How long does it take to get results?
Results that don't comply with the limits in NZS5826:2010 are notified as soon as they become available.
A full report is emailed 2 to 5 days after receiving the sample.
When ordering, please choose the number of sample jars required with a maximum of 6 per kit. You require one jar per body of water.
The NZ Post overnight courier service that we use relies on the return package being dropped off by your team at your local NZ Post agent. Check that you have an agent nearby here: https://www.nzpost.co.nz/tools/find-nz-post
Price includes gst & courier both ways.
Background information:
Bacteria are a natural part of the environment and can be found in many places, including swimming pools. While many bacteria are harmless, others can cause health problems, especially if they are present in high numbers.
Swimming pools are treated with chemicals such as chlorine to kill bacteria and other microorganisms. However, these chemicals may not be effective against all types of bacteria, and they may also break down over time, leading to an increase in bacterial growth.
Some of the most common types of bacteria that can be found in swimming pools include:
Pseudomonas aeruginosa: This is a type of bacteria that can cause skin rashes, ear infections, and eye infections.

E. coli: This is a type of bacteria that is commonly found in the intestines of humans and animals. Its presence in swimming pool water can indicate fecal contamination, which can lead to gastrointestinal illness.

Staphylococcus aureus: This is a type of bacteria that can cause skin infections, including boils and impetigo.

To reduce the risk of bacterial infections in swimming pools, it is important to maintain proper disinfection levels and to regularly test the water for bacteria. Swimmers should also practice good hygiene, such as showering before entering the pool and avoiding swallowing pool water.
In summary, while bacteria are present in many swimming pools, proper maintenance and hygiene practices can help reduce the risk of bacterial infections and promote a safe swimming environment.